Explore the Margaret River Wine Region
Anyone who knows me knows that "I am here for the food". With so many beautiful places to dine in our Margaret River Region, narrowing down our favourites was hard. We are so blessed with the best produce and of course beautiful Margaret River wines to wash it down with. You'll be spoiled for choice.
Casual Dining
For a beautiful hearty breakfast or lunch in a stunning bush setting, visit Duncan and the gang. This a a fantastic place to bring the kids as they have a great little outdoor playground. Opens at 8.30, closed Tuesdays.
Emily and Reece have been roasting fabulous coffee beans for some time now. When they opened their new cafe in Feb 2020 we were their with bells on. Beautiful coffee and fantastic cakes, croissant, sandwiches. Kiddie and doggie friendly. Open Thurs-Monday 8.00-12.30
Relaxed restaurant and bar set on a charming coastal hobby farm. Breakfast, brunch, lunch, hampers
On a summers day the outlook over bunker bay is amazing. Beautiful breakfast and lunch.
Tasty pub food, generous portions, great indoor playground. Dollar chicken wings are the best!
Margaret River Winery Restaurants
WA Regional Restaurant of the year 2019. What more is there to say, our good friend and head chef Seth James is a genius.
Beautiful setting, french influence showcasing seasonal Australian produce
A firm favourite with locals and visitors. Japanese fresh goodness
Aravina never disappoints. Enjoy a long lunch with stunning view and enjoy the surf museum and special exhibits.
Modern Australian some Japanese influences using seasonal ingredients grown or reared on site. Farm tours available
Chinese/Malay cuisine with a modern twist. Tasty, delicious and washed down with neighbours House of Card's Chardonnay even better
Their new renovation is absolutely stunning. Cozy up by fire in winter, swing on the chairs on the lawn in summer and devour their delicious wood-fired pizza.
Iconic, modern Australian style. Seasonal (of course). Fine dining to love
Dunsborough Restaurants
Lady Lola Deli Bar and Bistro.
Newly opened as of Jan 2021. Very excited for this one. Local wines, cocktails and share plates and Deli goodness. Open Wed-Sunday from 3PM
Open for lunch and dinner
Aaron Carrs delight. Modern Australian. Two hats. We love.
Asian fusion and seafood. Coby has done a fantastic job. Every single dish sings with flavour. And they do takeaway!
Under new management and delivering a delightful rustic Mediterranean menu, also specialising in Vegan cuisine
Breweries
For all things chicken wings, tacos and smoked meats by the legends that are Burnt Ends. Be sure to get to their raise the steaks on Friday nights. Book or you'll de disappointed.
Fantastic menu. Great for families with playground and lots of space.
Popular with locals and visitors alike. Great expansive outlooks with views of the valley and ocean. Beautiful food and drinks. Great for the whole family.
Takeaway
Peace Pizza -woodfired pizza goodness
Gourmet to go  fish and chips, ready meals, pies
Peko Peko  sushi, rice paper rolls, soups, curry's noodles
Thai Papaya Thai food
Bayside burger bar Delicious burgers dine in or take away
Burgertron: Seriously yummy take away burgers and oh so good fried chicken
Margaret River Wine Tasting
We could talk all day about how much we love Margaret River wines and in fact we do. Above all, the region is known for its exceptional Chardonnay and Cabernet Sauvignon, but the list goes on…
Wineries near Bina Maya Yallingup Escape:
Flametree
Happs
Windance
Marri Wood
Credaro
House of Cards
Swings and Roundabouts
Larry Cherubino
Clairault
Deep Woods
Wineries further afield towards Margaret River Town
Pierro
Cape Mentelle
Thompson Estate
Howard Park
Vasse Felix
Leeuwin Estate
Voyager
Xanadu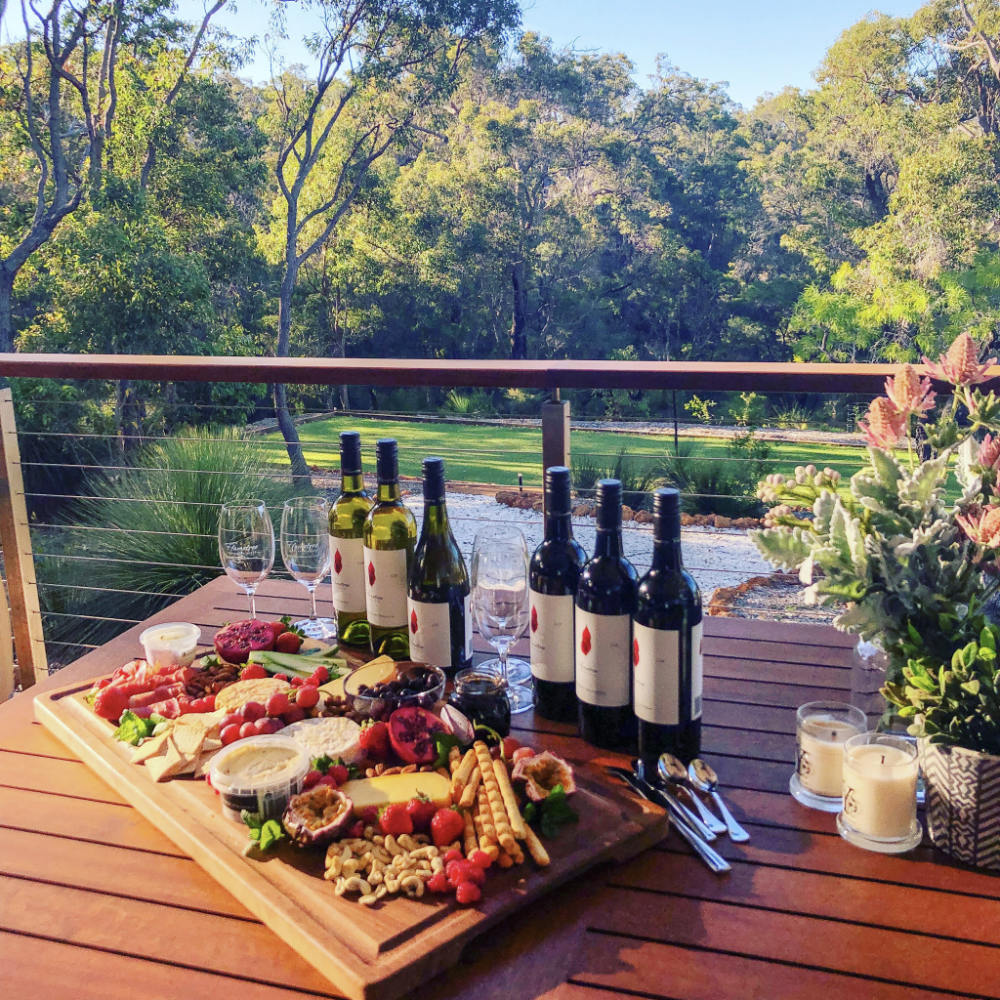 If you seek more than tasting copious amounts of Margaret River Wine  and dining at some of the countries best restaurants there is plenty to see and do.
Spring attractions
Whale watching: The whale watching season from Dunsborough and Busselton are available September -November. Contact Naturalist Charters for an amazing whale watching experience and if you're a Bina Maya guest receive 10% off your experience. Contact us at the time of booking for a promo-code.
Ngilgi Caves and Cape Natualiste Lighthouse: Experience the ancient wonders of Ngilgi Cave and head to Cape Naturaliste Lighthouse to discover the fascinating maritime history of the northern Capes region while taking in the panoramic views of Geographe Bay. Book your tours online for winter special prices
Margaret River Farmers Markets: Are open every Saturday morning. This is a ritual we love.
Upcoming Events
In these uncertain times, for most current listings please visit https://www.margaretriver.com/
The Margaret River Region