Kid Friendly Holiday Down South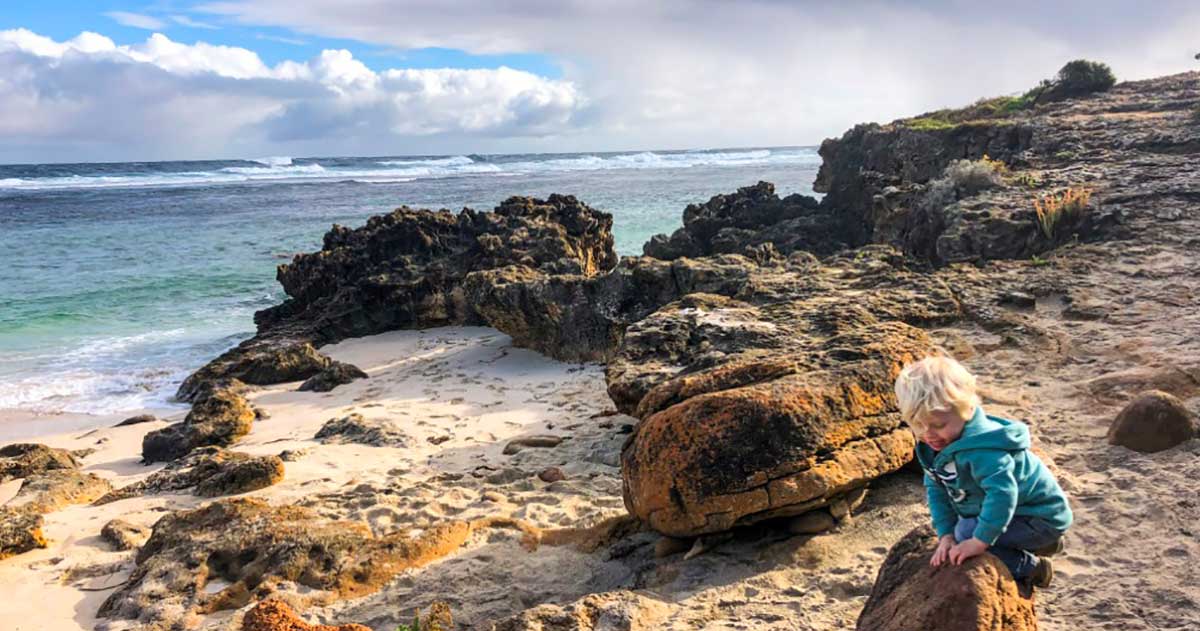 So, you're thinking of taking the kids to the Margaret River Region but wondering how will to keep the whole family happy? Especially with this colder wetter weather. As a business owner and a mum of three very busy boys I understand it can be so hard to get the family balance right.  There is certainly no shortage of  family friendly things to do in the Margaret River Region. We've been so lucky to have some fabulous businesses open around us down south and of course we have some firm old favourites.  So when you pack your bags for your Margaret River adventure, grab the raincoats, gum boots and umbrellas. And remember, there's no such thing as bad weather, only bad clothes.
If Perth is your starting point for your family holiday, let's start with the trip down. There's no need to dread the drive, it means a wonderful stop into Bunbury Farmers Markets. A foodie's heaven. Grab some coffee, a bit of lunch, and shop the most beautiful and well priced local produce for your holiday stay. Their ready meals are made on site and honestly taste homemade, & full of love, & are great for easy holiday family dinners.
Once you're settled down south; start the day right with a visit to Goanna cafe . It has always been our absolute top choice for breakfast. The bush cafe has a wonderful little outdoor play area and cubby house. The kids will love the pancakes & you will adore the Indonesian breakfast. A firm locals favourite.
Now to burn off some steam.
Of course we have a myriad of beaches to choose from for a beautiful beach side walk. Grab a coffee in Dunsborough town and walk along the promenade towards Old Dunsborough boat ramp which has a great little playground.
Yallingup lagoon is full of marine life and the kids love exploring around the rocks looking for crabs. The Yallingup nature playground next to the beach is adored by our kids. This is also a great spot to bring some fish and chips later in the afternoon and watch the sun go down over the Indian ocean whilst the kids play.
Next level Monkey business is a fantastic outdoor adrenaline park located on some beautiful natural bushland  & just minutes from Bina Maya. There's zip-lining for different levels from ages 4+. They also have a great little cafe with our favourite Commonage Coffee, and a nature playground for the litter kids. Make sure to book online so you don't miss out, especially over the school holidays.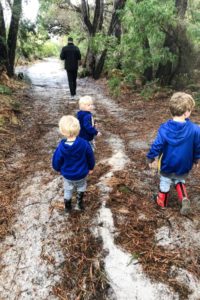 Still feeling outdoorsy? If you're staying with us at Bina Maya, we are surrounded by some beautiful bush walks, perfect for exploring, kangaroo spotting, bird watching and wildflower hunts.
The Ngilgi Caves, are a fantastic way to spend an hour or so exploring what was Western Australia first tourist attraction. The semi guided tours take around an hour. Great fun for all the family.
Getting hungry yet? We're so lucky to have so many wonderful places to eat down south. And there's no shortage of kid friendly breweries and wineries.
Wild Hop Brewing Company not only has a seriously tasty menu and great beer and wine but their outdoor nature playground is every kid's dream. Winning! Some other top choices include Aravina Estate,  Eagle Bay Brewing Co, and Swings and Roundabouts for pizza on picnic blankets and a play on the lawn and fabulous new playground and, for really rainy days the Dunsborough pub does great family food and has an indoor playground to keep the kiddies entertained.
Another gem that's close by is Yallingup Maze. The maze itself is so much fun, and they have a wonderful outdoor play area. Too rainy? Stay cosy inside with a fantastic selection of games inside the cafe area.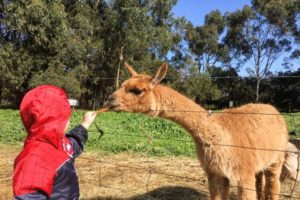 Wonky Windmill is a fantastic place to take young children. Put on the gum boots and rain coats in winter and feed the animals. You can even do fruit picking which my kids just love.
It wouldn't be a trip down south without the obligatory visit to Simmos ice-cream. Get your sugar fix and let the kids run riot, just watch out for ice-cream eating emus. You could even try a round of mini golf.
Dunsborough Growers Market (beside Coles petrol station) has some amazing organic produce. Their local meats are high quality and perfect for a winter bbq or slow cooked stew. And when its really rainy and you can't be bothered to get out of the car, they have drive-through coffee and freshly made cakes.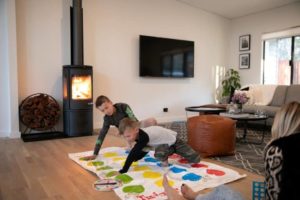 Surely everyone must be getting tired by now? Time to head back home and if you're staying with us at Bina Maya, light the fire and get the board games out. Chuck your ready meal in the oven, or perhaps you've had something in the slower cooker all day; pour the wine and when everyone's eaten, head out to the outdoor fire pit with a big bag of marshmallows.  And when everyone's too tired why not snuggle up on the couch for a family movie; we'll even provide the popcorn.
Sound too exhausting? Book and in-house massage when the kids go to bed or just call Downsouth babysitting to watch the kids for a few hours so you can enjoy some adults only time or perhaps head into Dunsborough to Blue Manna Bistro for  a well deserved delicious dinner.