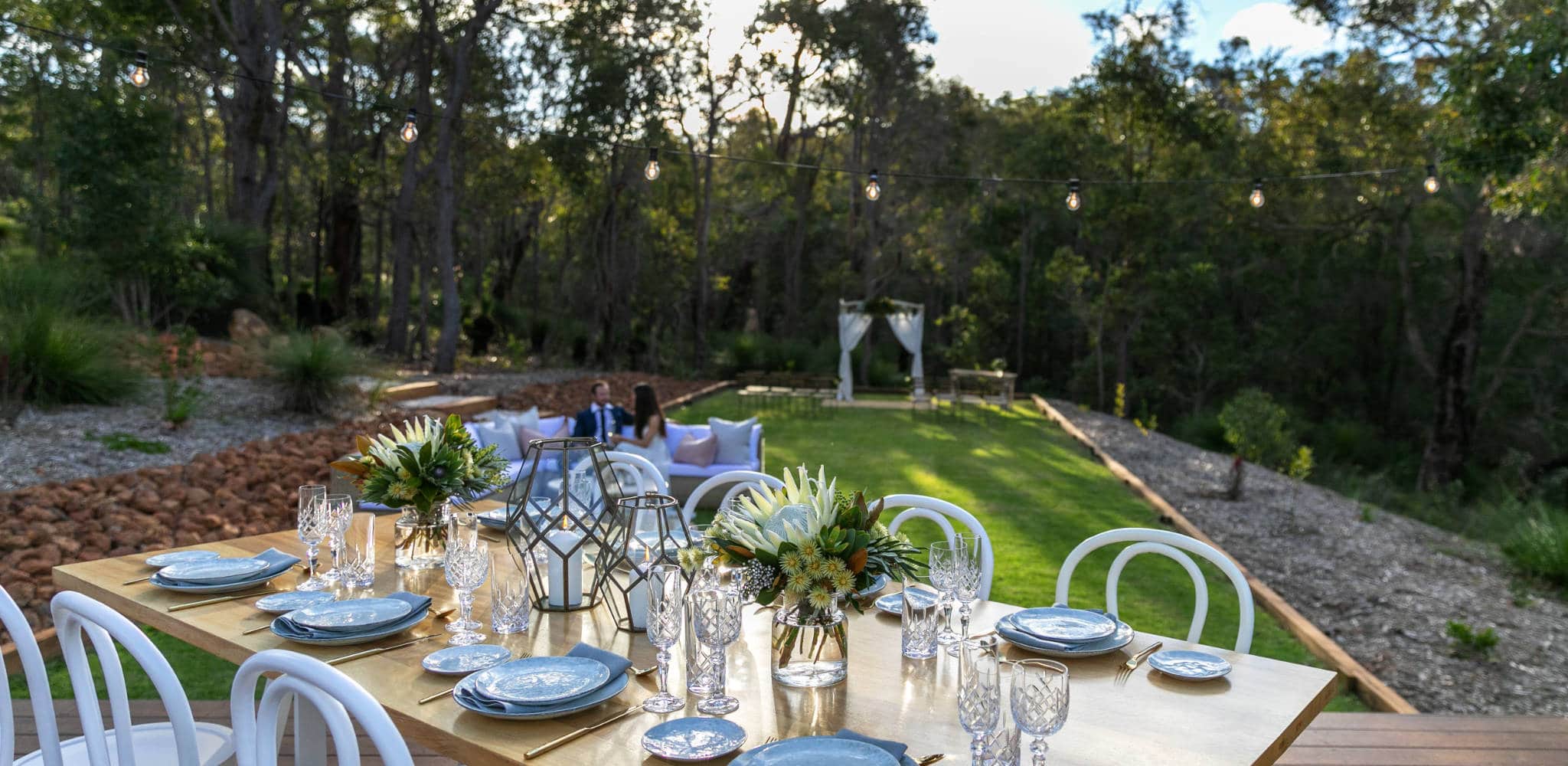 Intimate Events at Bina Maya Yallingup Escape
Getting married in the beautiful Margaret River Region or wanting to celebrate a milestone birthday? Bina Maya Yallingup Escape has the perfect combination of luxury accommodation and beautifully landscaped grounds for your special event or intimate wedding.
Whether you're wanting to book an intimate occasion of 30 people or less, or simply require wedding accommodation for you and your bridal party or perhaps a romantic honeymoon, we can cater to your needs.
Combined with our preferred providers your perfectly styled event will be a breeze to organise.
Hire a chef or catering that reflects your own personal style. Enjoy a private dining experience, intimate wedding ceremony & reception, recovery lunch on the deck; or cocktails at sunset on the lawn or deck area with freedom to handpick the most beautiful wine of the region to compliment your food.
Our Residence and Villa are the perfect combination for wedding accommodation, for the bride and groom, bridal party, family members or close friends.
Please enquire with us for further details or visit our blog to see more.
Our packages are for an intimate occasion for 30 guests with luxury accommodation for 12 guests
Preferred Suppliers
Intimate weddings packages
Intimate Weddings packages include luxury Accommodation in our Villa and Residence for up to 12 guests in addition to:
Exclusive use of the property and venue hire which includes
3-4 wine barrels (for use as high tables) and bar stools
Bamboo Arbour with drapery
Chairs for ceremony for up to 30 people
Property manager on site/on call
Use of:

The lawn area for an intimate ceremony
The lawn area and lower deck area for a cocktail style occasion
The lawn area and lower deck for a long table reception/lunch/dinner
The Residence balcony for a long table reception lunch/dinner
The Residence dining area by the fire for a cozy winter long table dinner/lunch inside

Our package prices for 2 nights start at $5380
We are LGBTQI friendly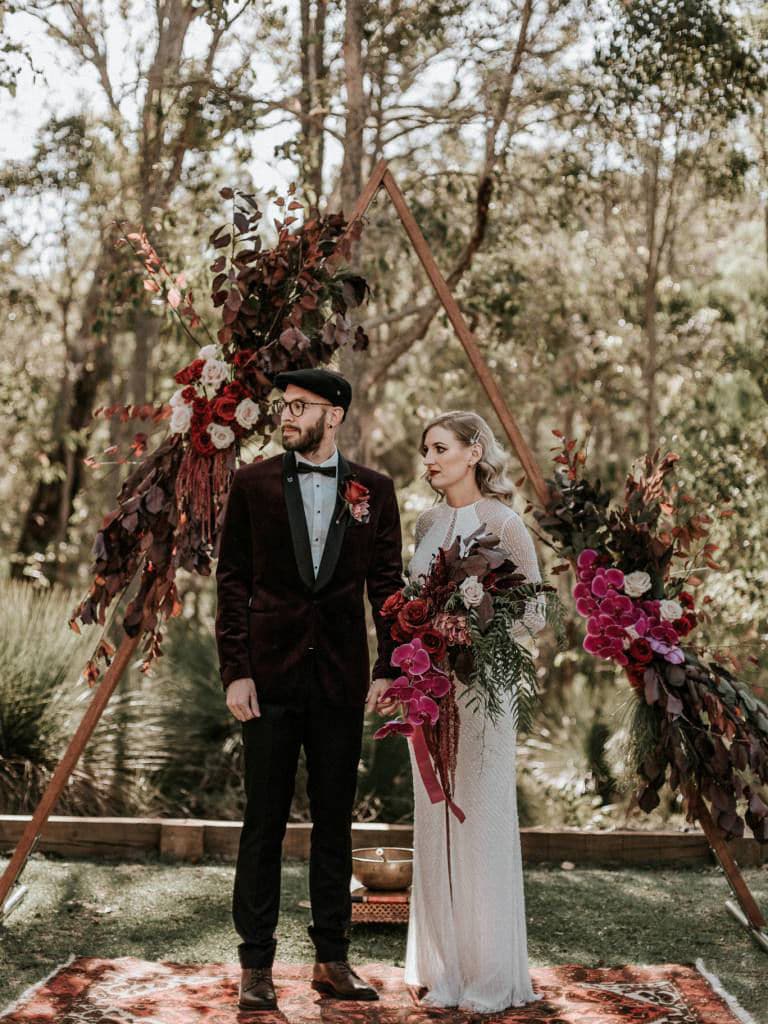 TESTIMONIALS
Bina Maya was an absolutely beautiful venue for our intimate wedding. The accommodation is luxurious and Sara was very happy to make any little idea we had happen, so our day was completely personalised. We felt we got a lot more than just a place to get married, as Sara was very helpful with recommendations and getting us organised for our special day!
Kara and I held our intimate wedding at Bina Maya, the ceremony was held on the grassed area on the edge of the bushland followed by dinner on the balcony of the main residence with 16 of our immediate family and it was absolutely perfect. We couldn't have asked for a more beautiful location and venue.

Sara and Tim were so generous with their time and went above and beyond for us all weekend. We can't thank them enough for their efforts and help in making our wedding so amazing.

Kara and I keep reflecting back to our wedding and stay at Bina Maya and talking about how incredible it was, it is such a special place and we can't wait to visit again for our one year anniversary or maybe sooner as I'm not sure we can wait a whole year before visiting again.

My Partner and I had our wedding at Bina Maya Yallingup Escape and it was an absolute dream.
We booked before viewing the property as Sara's quick replies to our emails and ease in answering any questions gave us confidence from day 1, after viewing the property before the wedding we were blown away. As soon as we arrived we could see how much planning and effort went into designing the beautiful homes which feel like luxury.
Sara was so flexible throughout the planning and our on wedding day, we really could not have asked for anything more.
The days before and after the wedding were just as fantastic as Bina Maya really is a perfect escape, apart from the kangaroo visitors you feel like you have the place to yourself. We can't wait to be back!