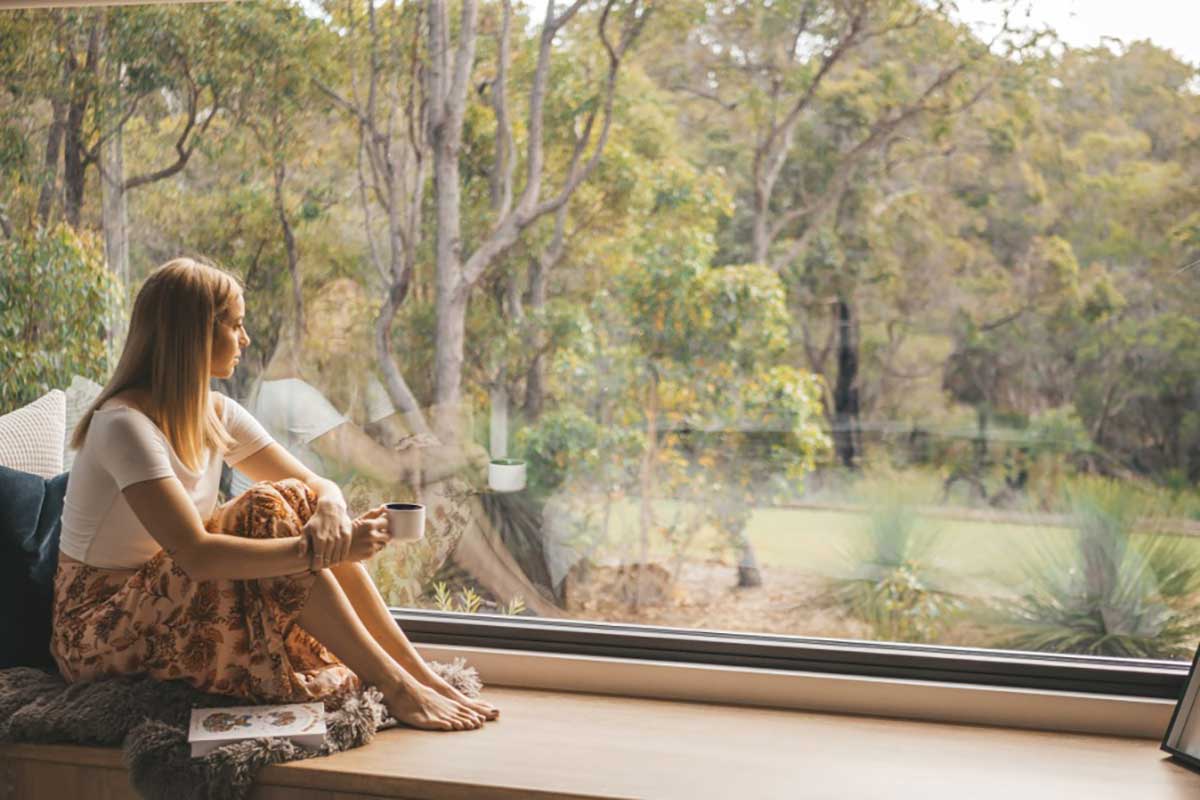 Frequently Asked Questions about your luxury stay at Bina Maya
What makes Bina Maya different?
Barefoot luxury accommodation. Award winning (Silver Tourism Awards, Western Australia;, TripAdvisor's Travellers Choice, Master builder Award 2020) self-catering villas with a hotel service feel. Private, secluded yet ideally located close to Yallingup beach and Dunsborough town (7 min drive) and minutes from award winning wineries. We have a 5 star rating and include a great amount of extras in our prices. Find out why our guests love their stays with us reading our glowing reviews.
What accommodation is available?
Currently there is 1- 2 bedroom Villa and one 4 bedroom Residence. The Villa may be booked as a 1 or 2 bedroom option. When the Villa is booked as a 1 bedroom you have the entire Villa to yourself (we simply lock one side). When the Villa is fully booked we offer the Residence as a 1-2 bedroom (restrictions apply). The Villa and Residence have been positioned and designed to ensure guests privacy.
What is included in the rate?
All luxurious linen and towels, beach towels, handmade organic toiletries, complimentary pantry, variety of tea, coffee pods/fresh beans, free high speed wifi, premium movie and music streaming services.  All guests receive a bottle of local wine on arrival. In cooler months, wood for the fire is also provided. Rate also includes a standard cleaning upon check out.
Do I need to pay a security deposit?
A refundable security deposit is charged to your nominated credit card at the time of your arrival of $500
Do you have any specials?
Yes, we run stay pay deals where you can save from 25% off your booking and discounts off total price at certain times of year. Please click our rates to view our current specials or subscribe to our newsletter to receive first news of our specials.
What is the check-in procedure?
Guests can self check in. We send an email/SMS text message, whatsapp message on the day of check in with access details to the property. If you do not receive your message you will need to contact us before midday on the day of arrival via phone or email.
Check-in is from 3 pm, and check-out at 10am. Early check in and late check-out are subject to availability and may incur a fee.
Do you accept 1 night bookings?
Not currently, both the 2 bed Villa and Residence have a two night minimum, with 3 night minimums on public holidays and 4-7 night minimum in peak times.
Can I invite friends/others to the accommodation?
The Villa has been designed to accommodate either 2 or 4 people.
The Residence has been designed to accommodate a maximum of 8 people.
For the comfort, insurance and security of our guests, no additional visitors may stay at either the Villa or the Residence. Day visitors are permitted (with limitations). Please ensure all guests have scanned the SafeWA code on the door.
Any vendors visiting the property such as caterers, make-up artists, hairdressers etc. must be listed in writing to the manager prior to check in.
How long will it take to travel to Bina Maya Yallingup Escape?
From Perth allow approx. 3 hours. From Busselton allow approx. 25 minutes
From Margaret River allow approx. 35 minutes
Detailed directions are available from our location page.
Can I purchase a gift certificate?
Yes. Please contact us to buy monetary amounts to stay with us detailing the amount you wish to spend, who the gift is for and from and any message you wish to include. Please also let us know if you wish to pay via credit card or direct transfer. Vouchers are valid for 3 years.
Is there wifi and streaming services?
We have complimentary internet access, smart televisions with streaming applications for movies and tv series and Sonos smart speakers to stream premium music services to control from your phone (just install the Sonos app on your phone (detailed instructions are available in our in house compendium).
Is the accommodation non-smoking?
There is absolutely no smoking permitted inside or on the balconies and lawn/deck area. We have a designated smoking area near the driveways of both the Villa and Residence .
Do you accommodate children?
Bina Maya Yallingup Escape has been designed for couples, friends and families with children of all ages, within our accommodation occupancy limitations. Infants 1 year and younger stay free of charge.
We can provide cots and high chairs subject to booking in advance and availability. Check out our blog post if you're traveling with children
Can we bring our pets?
No. Due to the large number of kangaroos and luxury furniture/fittings at Bina Maya we cannot accommodate your pets. We can highly recommend Allbreeds Pet Retreat in Perth (Kewdale)  or for a more local stay for your pet there is Bushlands Pet Resort in Capel  or Margaret River Pet Retreat .
Do you accept School Leavers/under 21s?
Please note we do not accept leavers or bookings where all guests are under 21 years of age under any circumstances. Attempting to fraudulently book will result in loss of booking deposit.
Can I book an in house chef?
Bina Maya Yallingup Escape have a fully equipped kitchens in the Villa and Residence, perfect for your personal chef to use. Chef's are subject to availability so please request at the time of your booking to avoid disappointment.
Can I book an in house massage?
Yes at Bina Maya you can indulge in massage and couples massage. Must be booked in advance to avoid disappointment
Can I order breakfast or grazing boards during my stay at Bina Maya?
We can arrange a delicious breakfast grazing board delivered to your accommodation or a platter of cheese/charcuterie perfect with an afternoon wine. We simply need 24 hours notice
Can I have an elopement at Bina Maya ?
At Bina Maya Yallingup Escape we offer a limited number of elopement packages with accommodation for intimate occasions of 2-30 guests. See our occasions section for details
View Bina Maya Yallingup Escape's privacy policy and booking terms and conditions